Carrot-Ginger Immune-Boosting Soup (Instant Pot)
Stay well all winter with a comforting bowl of carrot-ginger soup. Filled with immune boosting foods like ginger, turmeric, carrots, and onions, it may help keep those sniffles at bay and will be sure to warm you up on a a chilly winter's day!
Note: If you don't have an Instant Pot, don't worry! This can easily be made on the stovetop and I've included directions below.
This is one of those soups that is on rotation in our house all fall and winter. It feels like a warm hug on a cold day! Also, it's incredibly quick whether you use the instant pot or the stove. The flavors of the ginger and turmeric bring a warming spiciness and pair so well with the sweet carrots.
It's perfect on a weeknight when you want something easy and healthy. This soup is particularly welcoming in the midst of holiday parties and other more indulgent celebrations; it tastes healthy, but in the best way possible. Like you're just doing something good for your insides.
Pair it will some crusty bread and a salad for a light meal or make it a side to your roasted chicken. It also makes great leftovers for lunch, so you may want to make a double batch.
What makes this an immune boosting soup?
To clarify, we really should say, "immune supporting" because we can't really boost our immune system. But certain foods contain nutrients that can support it and help it function optimally. And that's exactly what this soup contains.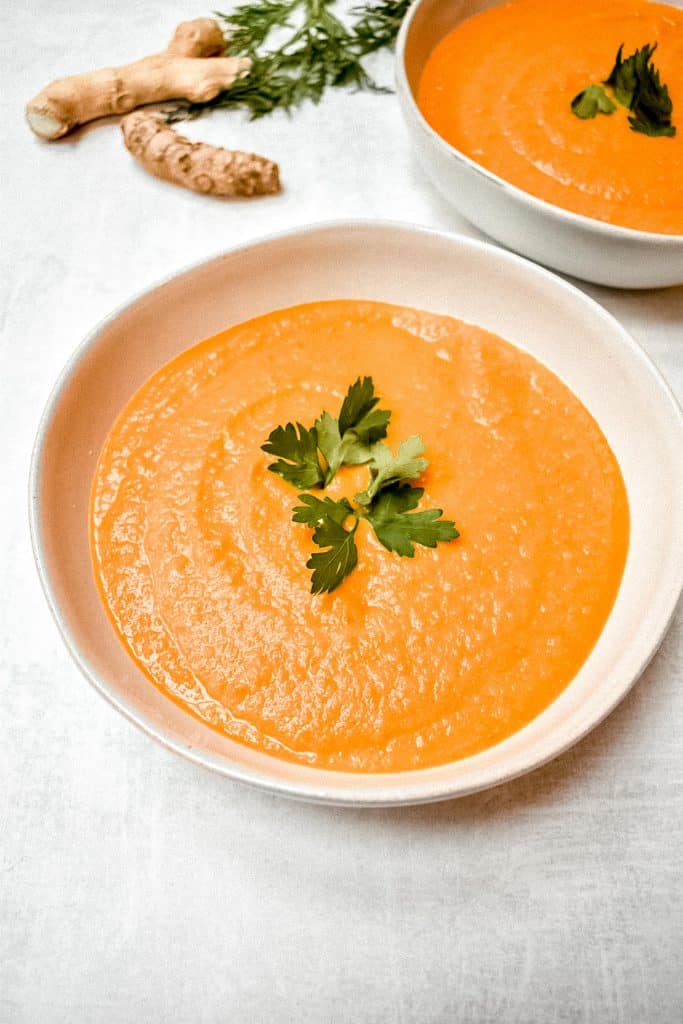 All plant foods contain nutrients that may help ward off the sniffles. Eating a variety of colorful plants is the best way to support a strong immune system, but this soup is filled with ingredients that have been specifically linked to immune health.
Carrots: Beta-carotene (what makes the carrots orange) is best known for it's role in eye-sight, but this this pre-cursor to vitamin A actually plays an important role in immune function. You can also get this nutrient winter squash, sweet potatoes, cantaloupe, and orange peppers.
Turmeric: This trendy spice became popular because it contains curcumin, a phytonutrient that has been tied to many health benefits, including immunity. While the research in fighting disease doesn't quite live up to the hype in the media, there are still likely some health benefits, and it adds a gorgeous color and flavor to any dish. Black pepper aids with absorption, so don't skip that ingredient.
Ginger: Known for its anti-inflammatory properties, ginger can play a role in immune health. Plus, that bright and spicy flavor it gives to this soup can help clear out those sinuses naturally!
Onion: Alliums (onions, garlic, leeks) are prebiotics, which help feed the good bacteria (probiotics) in your gut. Gut health is at the center of our immune system, so keeping that gut healthy is the foundation to staying well.
Plus, soup is the ultimate comfort food and a perfect way to slow down and warm up for a few minutes for yourself, which can be good for busting stress (another key piece to keeping you healthy).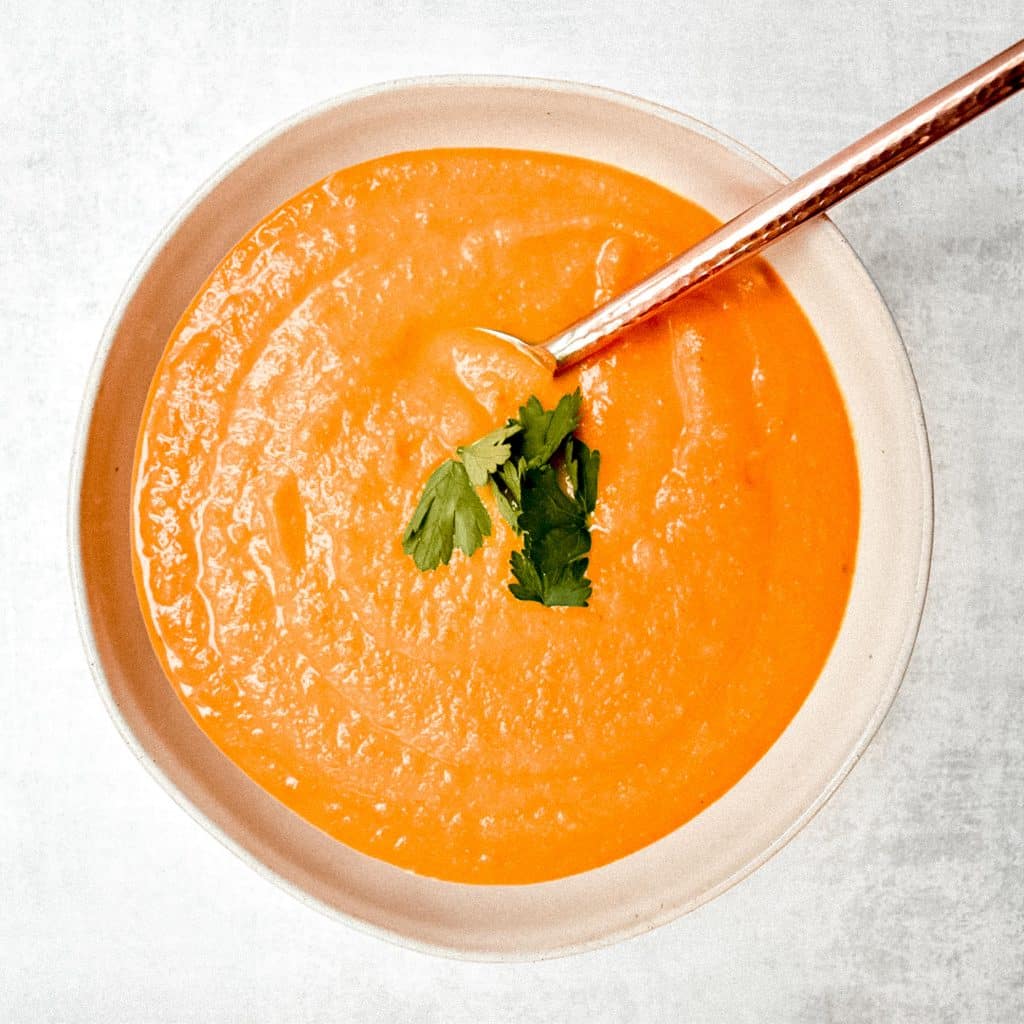 Did you make this Carrot Ginger Immune Boosting Soup?
Leave a comment letting me know what you thought about it and rate it in the recipe card below! Save it to your Pinterest board so you can find it later, and don't forget to share a picture of your creation on instagram and tag me (@busy.mom.nutrition). I love seeing what you're up to!
Want more warming winter soups? Here are some of my other favorites that are on rotation all winter.
Yield: 4-6 Servings
Carrot Ginger Immune-Boosting Soup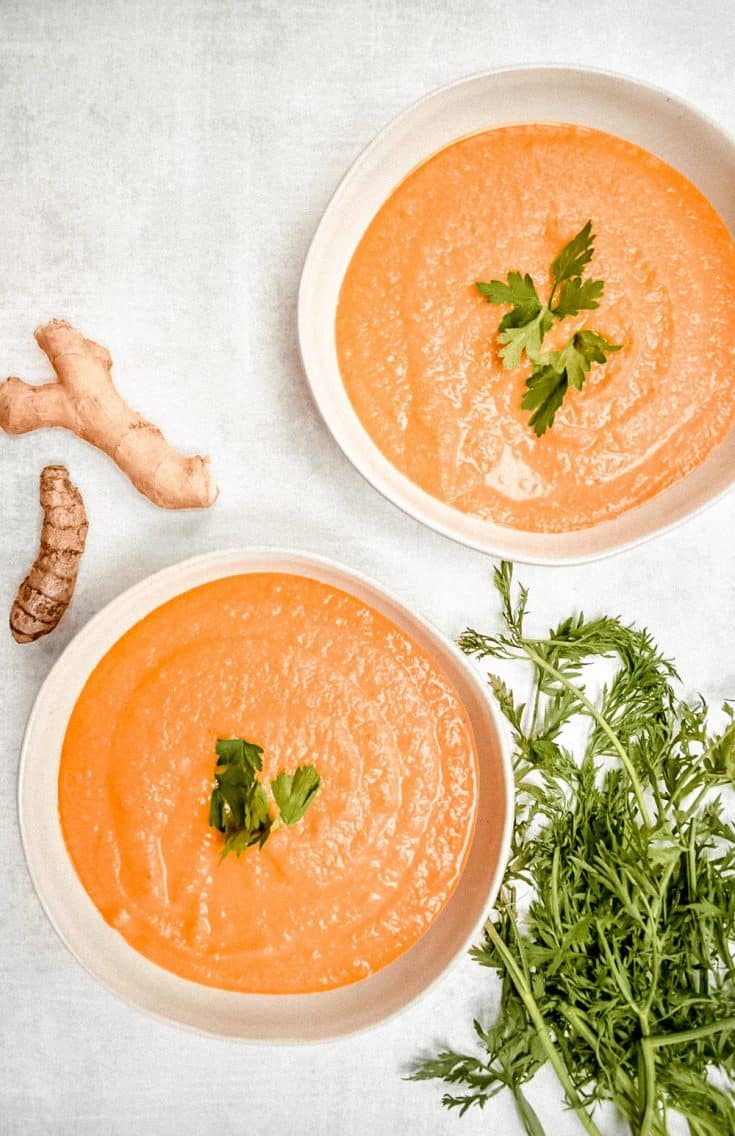 Stay well all winter with a comforting bowl of carrot-ginger soup. Filled with immune boosting foods like ginger, turmeric, carrots, and onions, it may help keep those sniffles at bay and will be sure to warm you up on a a chilly winter day!
Ingredients
1 Tbsp olive oil
1 small yellow onion, diced
1 lb carrots, diced into 1/2-inch rounds
1-inch knob ginger, finely diced
1/2 inch knob turmeric, peeled and finely chopped. Or 1 tsp turmeric powder.
1/2 tsp Kosher salt
4 cups low-sodium vegetable broth
1 cup full-fat coconut milk
Freshly ground pepper
Instructions
Instant Pot Instructions:

Turn on Instant Pot to sauté on high and set to 10 minutes. Add olive oil then onion and carrot and sauté until they soften, about 5-6 minutes. Then add ginger and turmeric and sauté until fragrant, about 1-2 minutes, stirring regularly. Turn off sauté function.
Add salt and broth. Then set Instant Pot to pressure cook on high for 10 minutes. Add cover and seal and let Instant Pot do it's thing. When it finishes, release pressure by turning pressure valve – steam will release. Once steam is done releasing, remove lid.
Using an immersion blender, blend the soup until it's a smooth consistency. If you don't have an immersion blender, transfer soup in batches to a blender or food processor and blend until smooth. Stir in coconut milk and season with freshly ground pepper.
Leftovers can be kept in refrigerator for 3-5 days.

Stovetop Instructions:

Heat a large soup pot or dutch oven over medium-high heat Add olive oil, onion, and carrot and sauté for 5-7 minutes, until soft. Then add ginger and turmeric and sauté for another 1-2 minutes, until fragrant.
Add broth and salt. Bring to a boil and boil and then turn heat down and simmer for 20 minutes to let flavors meld and carrots get really soft. When done, follow step 3 in directions above to blend and add coconut milk/pepper.
Notes
Notes: You can find fresh turmeric near the ginger. But if you don't have it, you can use dried. Be careful when handling fresh turmeric. It stains!
Leftovers: Store leftovers in an airtight container in the fridge for 3 days or freezer for up to 3 months.