Vegan Grilled Ratatouille with Summer Vegetables
This vegan grilled ratatouille celebrates all there is to love about summer produce. Lightly grilled, then sautéed and topped with fresh garden herbs, it's fresh and filled with flavor. Serve with your favorite crusty bread or over a whole grain and a glass of chianti and you've got yourself a perfect summer meal.
This one-dish meal is a great way to pack in a ton of vegetables in one meal without feeling like you're just crunching on a huge salad. And let me tell you: my husband turns his nose up at both eggplant and zucchini in most forms, but he devours this dish. So it's a great way for us both to enjoy some of my favorite summer vegetables. It's light, but surprisingly filling, especially when paired with a whole grain. An abundance of fresh herbs used both during the cooking process and as a finisher pair perfectly with the vegetables and basically sing summer.
Why you should grill your vegetables first
Most ratatouille recipes call for adding all of the vegetables to the pan, others bake the eggplant and zucchini. But my favorite way to make ratatouille is to grill the vegetables first. Yes, it's an extra step, but grilling the zucchini and eggplant add a slightly smokey, charred-in-a-good-way flavor to the dish that you can't get otherwise. But if you don't have a grill, you can just add diced zucchini and eggplant to the pan with the mushrooms and sauté them.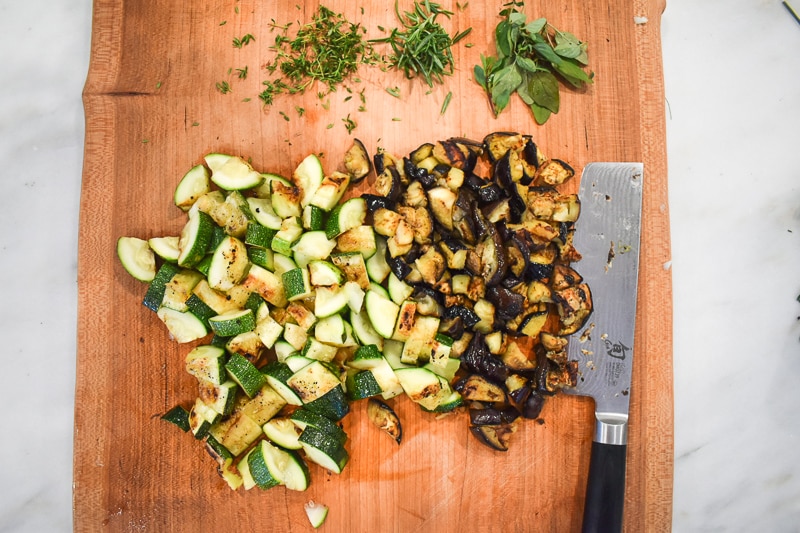 Customize your grilled ratatouille
Don't like mushrooms? No problem, skip 'em. Have yellow summer squash? Add it in. You can use canned diced tomatoes or fresh diced — which is what I do in the later summer months when I have an abundance of tomatoes in my garden. When it comes to herbs, more is better in my humble opinion. I grow a lot of different herbs in my garden, but if you don't, don't feel like you have to use every herb I include here. It's great with just one or two!
How to serve
The beauty of this recipe is how flexible and customizable it is. It can be a main dish, a side, or even an appetizer. Here are some of the ways I recommend serving it:
Over a whole grain like whole wheat couscous, pearled couscous, farro, or whole wheat pasta
With crusty bread for dipping
Add great northern white beans or cannelini beans for a protein boost to make it a more satisfying
As a side with a piece of grilled fish like halibut or cod
As an appetizer with grilled sourdough for a crositini with melted fresh mozzarella or grated Parm (not vegan)
Did you make this vegan grilled ratatouille?
Leave a comment letting me know what you thought about it and rate it in the recipe card below! Save it to your Pinterest board so you can find it later, and don't forget to share a picture of your creation on instagram and tag me (@sarahgoldnutrition). I love seeing what you're up to!
Yield: 4 Servings
Grilled Summer Vegetable Ratatouille
This ratatouille celebrates all there is to love about summer produce. Lightly grilled, then sautéed and topped with fresh garden herbs, it's light and filled with flavor.
Ingredients
1 medium eggplant
2 medium zucchini
2 Tbsp olive oil, divided
1/2 tsp Kosher salt, divided
Freshly ground pepper, to taste
1 medium onion
3-4 cloves of garlic
10 ounces white or baby bella mushrooms
1 14-ounce can diced tomatoes. I like San Marzano tomatoes for their sweetness.
2 Tbsp each (chopped): fresh rosemary, thyme, oregano, basil, parsely
Optional: fresh mozzarella or freshly grated Parmesan cheese
For serving: whole grain pasta, couscous, orzo, or other whole grain OR baguette or other crusty bread of choice
Instructions
Heat grill to medium (about 400 degrees F). Slice eggplant into 1/2 inch rounds and zucchini lengthwise into quarters (bigger pieces are better for the grill so it doesn't get too soft). Toss in a bowl with 1 Tbsp olive oil, 1/4 tsp salt and a couple of turns of freshly ground pepper. Grill vegetables for 3-5 minutes per side, just enough to brown, but don't let them get too soft or they will become mushy when you add them to the rest of the dish. When done, remove and let cool on cutting board until cool enough to handle and chop. When ready, chop into ~ 1/2 inch pieces.
Meanwhile, dice onion, mince garlic, and slice mushrooms. Heat remaining 1 Tbsp oil over medium heat in a large pan. Add onions and cook for 2-3 minutes until slightly softened. Add garlic and saute until fragrant, about 30 seconds to 1 minute. Add mushrooms and cook for another 5 minutes, until slightly soft.
Add tomatoes, rosemary, thyme, oregano, remaining 1/4 tsp of salt, and a little fresh pepper. Stir and turn down heat to low and cook for 5-7 minutes to let flavors set in.
Stir in eggplant and zucchini and let cook for another 1-2 minutes. Add basil and parsley. Top with cheese if using and serve with grain or bread of choice.