Easy Restaurant-Style Grilled Shishito Peppers
Make this trendy and oh-so-easy restaurant appetizer at home. Eating grilled shishito peppers is a bit like playing Russian roulette; they are mostly mild and slightly sweet, but every once in a while you bite into a fiery hot one!
If you haven't had shishito peppers before, they are a small, wrinkly bright green Japanese pepper that look like a bit like a chili or habanero. They are mostly mild and sweet, but about one in 10 are spicy. That's part of the excitement — who will get the hot one(s)?
Grilled shishito peppers are so easy to make and they are super addicting, you're going to want to add them to your weekly shopping list. Trust me.
They pair great with grilled fish (like this cedar plank grilled salmon), chicken, burgers, steak (really anything on the grill!). Or, make an easy crowd-pleasing appetizer that you can whip up in just a few minutes (you know, when we're back to entertaining friends and family some day). You eat them with your hands, which is especially fun for kids.
Where do you buy shishito peppers?
Until recently, they were honestly pretty hard to come by, and your best bet was to find them on a restaurant menu. But a couple of years ago, they started to pop up in farmer's markets mid-summer in New England and were only available locally to us a few weeks year.
But they have become such a popular vegetable — whether for their mild flavor, ease of preparation, or maybe excitement of eating them — they are now easily accessible in grocery stores almost year-round.
How do you cook shishito peppers?
You can grill, roast, or sauté shishito peppers, and the best part about them is that they are ready in 10 minutes. However you're preparing them, they taste the best when blistered or slightly charred.
Shishito pepper nutrition
Shishito peppers, like other peppers, are a good source of fiber and 1 cup provides a day's worth of vitamin C! They are also a good source of b-vitamins and vitamin K.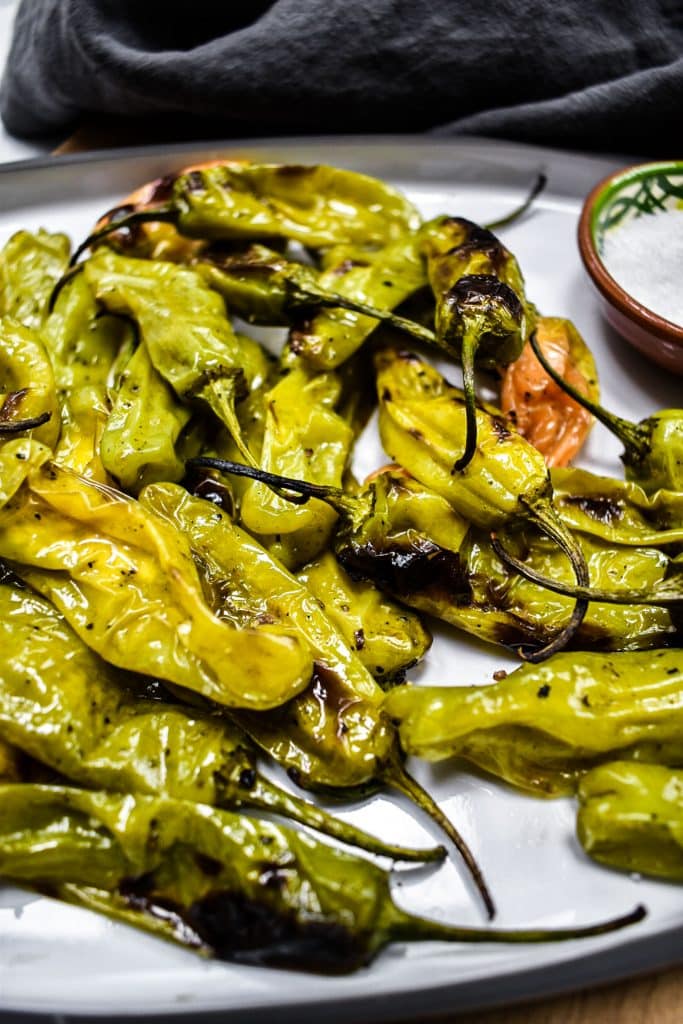 How to make grilled shishito peppers
This is one of the easiest vegetable side dishes or healthy appetizers you can pull together. All you need is some olive oil, salt, pepper, and an acid. For these grilled shishito peppers I am using a sherry vinegar, but you can use lemon or another vinegar of your choosing (or skip the acid altogether).
Toss the peppers in olive oil, salt, pepper, and a little bit of vinegar or lemon. Then all you do is throw them on a medium-high grill and toss occasionally until they are blistered and wrinkled. You'll want to use a grill basket (here's one I recommend) because they are small enough to fall through most grill grates.
No grill? No problem. Follow the same process and toss them in a cast-iron pan or another sauté pan and cook until they wrinkle up and have a slight char. Here's a quick tutorial and some other ways you can prepare shishito peppers in a cast iron pan.
They will begin to deflate while cooking them and will completely deflate when you remove them from the heat. If they don't, they need to cook longer.
Did you make grilled shishito peppers?
Leave a comment letting me know what you thought about it and rate it in the recipe card below! Save it to your Pinterest board so you can find it later, and don't forget to share a picture of your creation on instagram and tag me (@sarahgoldnutrition). I love seeing what you're up to!
Yield: 4 servings
Easy Restaurant-Style Grilled Shishito Peppers
These grilled shishito peppers are as good as if you ordered them from a restaurant, but so simple, you don't have to fuss. Serve them with grilled fish for an easy dinner or as an appetizer that will be sure to please a crowd.
Ingredients
12 ounces of shishito or padron peppers
1 Tbsp olive oil
1/2 tsp flaky sea salt
Freshly ground pepper, to taste
1 Tbsp + 2 tsp sherry vinegar (divided)
Instructions
Wash and pat dry shishito peppers. Toss in a bowl with olive oil, salt, pepper, and 1 Tbsp sherry vinegar.
Heat grill to medium-high heat, about 400-450F.
Place peppers in grill basket over medium-high heat and cook for 10 minutes, tossing occasionally so they cook evenly, until they are blistered and have begun to deflate.
Remove from grill and toss with remaining sherry vinegar. Serve immediately.
Please note that this post contains affiliate links. If you choose to purchase recommended products, I may receive a small commission for your purchase, at no additional cost to you. Thank you for supporting Sarah Gold Nutrition.